Are you prepared for a hands-free future? It's time to talk about personnel rapid doors!
We're excited to launch the latest innovation in high speed doors and the future of interior doors – the Ulti Roll Entry!
Simple. Quiet. Hygienic. Cost-Effective.
Contactless pick-ups, contactless delivery – with so many aspects of our daily lives moving to a contactless environment, so too must our interior doorways. Keeping your people as safe as possible while also making their day even easier is essential to a productive and efficient work environment.
With the Ulti Roll Entry, we're talking about entrances you might never even thought of – Doorways frequented by a large team, entrances to dry storage, staff rooms, between sectors within your business or facility, office spaces, workshop areas, and more. Basically wherever your team come in and out of, the Ulti Roll Entry will keep them safer, be more efficient, quieter, faster, and more hygienic.
High-quality, minimal design
Designed specifically as a high-speed door for narrow pedestrian doorways or hallways, the innovative, ultra-compact design of the Ulti Roll Entry includes low-profile side frames, and compact header with integrated brushless motor and control panel! This means the Ulti Roll Entry uses significantly less floor area and wall space than traditional hinged and swing doors, making it the smarter, future-proofed solution.
The Ulti Roll Entry is also super easy and convenient to use with fast operating speeds optional touchless controls to eliminate the transfer of bacteria that would normally occur on traditional door handles, and maximise productivity in your workplace!
Moreover, for ultimate hygienic and sanitary operation, it even has an optional germicidal UV-C lamp which will destroy airborne bacteria, viruses, and moulds, making it the perfect choice for office or hospital facilities!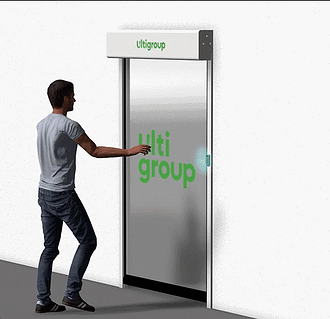 But the benefits don't stop there.
Just like our Ulti Roll, the Ulti Roll Entry is durable and low maintenance. In the event of an accidental impact, the curtain simply unzips from the side guides and then reinserts itself in the guides and continues operating without any hassle or downtime.
And for those worried about potential noise, its Brushless DC motor ensures that it is a very quiet operating door, perfect for the low-noise environments required for office applications and hallways.
Finally, where would you be without the ability to customise?! With optional curtain printing, it is easy to promote your brand, and increase signage in the workplace. Or should you ever need to relocate the door or change the curtain design, the Ulti Roll Entry's plug and play design makes it easy to move the whole unit or simply replace the curtain!
Sounds pretty good to us! If you're keen to get on board with the future of interior doors, get in touch!